We manufacture wrought iron gates to suit your needs, with no set sizes as all our work is made individually. This means having the gate in a size you want and a design you like. A good metal gate is a once in a lifetime purchase, and should compliment any property, providing security and style, with years of trouble free usage, with low maintenance.
Wrought iron gate double styles or pairs.
Double gates, or a pair of wrought iron gates are used where the width is large or not practical for a single leaf. They can be made as an equal pair or as an unequal pair, one leaf is bigger than the other. This method is used where regular pedestrian access is required but only occasion vehicle access is required or where there is limited opening space on one side.
Wrought iron Driveway gates.
Metal Driveway gates provide good security for vehicles parked on a driveway. Around a metre high, metal driveway gates can be fixed to brick piers or steel posts. For safety reason we suggest on low pairs, that the sharp type railing heads are not used. Driveway gates tend to to be lighter in construction, than estate gates.

Estate gates are taller version of a metal driveway gate, providing greater security due to increased height, normally in excess of 1.5 metres Usually fixed to brick piers with steel beams inside of piers. Can also be fitted to heavy steel box section posts, concreted in the ground. This type of metal gate is often fitted with the addition of electric automation.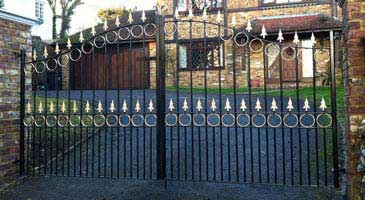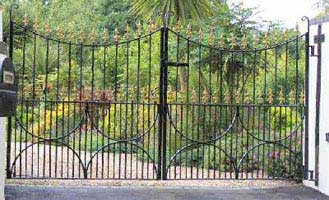 More examples of wrought iron estate gate
Wrought iron gate single styles.
Single gates are generally used as pedestrian access, but where restricted opening space is available a single leaf iron gate can be used even for vehicle access. Often used in conjunction with a pair where space allows, providing a dedicated pedestrian entrance gate.
Wrought iron garden gate or front gates.
A Garden gate is ideal for defining a boundary, keeping children and pets within the garden. Suited to hanging from brick piers, steel posts or wooden posts. Care should be taken when using to keep small animals in, the gate design should ensure that gapping between bars doesn't allow the animal through.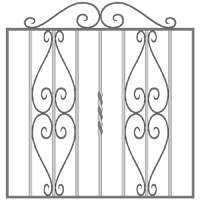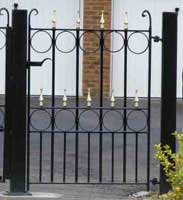 Wrought iron side Gate or Alley or Security Gate.
A Side gate are frequently found protecting side or rear entrances to gardens, taller than metal garden gates for obvious security reasons. Can be fitted with locks to provide extra security. Also used to provide addition protection for a house door allowing the house door to be open but protected from unauthorized access, an idea usage for the summer months. Technically a security screen, but design falls into the realm of a metal gate.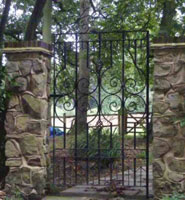 we make modern designs or traditional designs, the possibilities are almost endless, due to the flexibility of steel and the ability to wrought it into shape.
Soon we hope to publish our wrought iron gates design folder on the web, which will contain hundreds of gate designs.
for more detail contact us