Sorry more reading
So here we have taken some popular bar designs for gates or railings, tried to simplify it down to allow customer to design there own balconies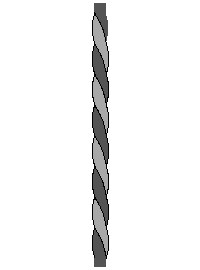 This is simple a bit of 12mm square that has been twisted, its easy to do and cost effective way of adding something to a design, but its also quite subtle.
These cost about £2-50 each twist. Usually about 250mm long. So if a single twist it will be a 1000mm or 1100mm bar, with a 250mm twist in the centre of the bar. You can have a double twist, that would mean one twist in the top half of the bar and a second in the bottom half of the bar..
Twists are simple but, they can be very different, in time i will add a whole page on twists, to explain all in the future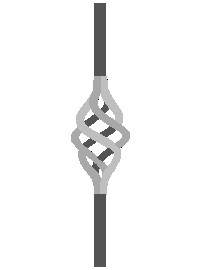 A cage, something a little more bold. The cage is a mass produced part that is "bought in", it simply requires welding between two bars, and then grinding so that it looks like it was formed from a solid bar.. Multiple cages can be put in one upright bar and it is not uncommon, to have a cage in the top and bottom half and the middle bar that connects the two to be twisted, or to have a cage in the centre and a twist top and bottom. Could also be 3 cages evenly spaced over a bar.
Cages work out at £3-00 each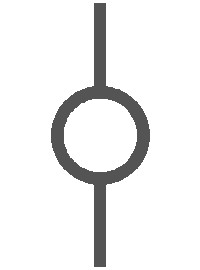 A circle of 100mm, formed from 12mm square, another mass produced part, that is welded between to bars, ground smother so that it looks like one piece of metal. as with others can have multiple circles welded to one bar evenly spaced, can be two circles with a twisted bar in the middle or a cage .
Circles work out at £3 each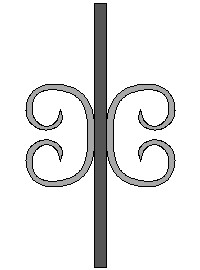 A pair of C scrolls, these are about 100mm tall, can be set as a multiple item
note C scrolls can be used as the support, if having a double top bar frame
Price £3-50 per unit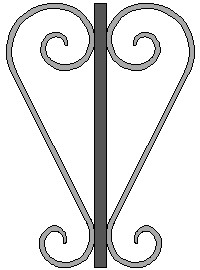 A pair of S scrolls, these can vary in length and width, 250mm being the minimum length, but can be made longer., so as per drawing on page one, you can stack 4 into a panel. Ultimately each scroll should be welded be welded between 2 bars. Scrolls can be much longer but care needs to be taken so that they don't look to stretched, usually as a scroll gets longer it gets wider but you width is restricted by your bar gap.
Price per pair £5
This 5 pieces which can be put together in different ways to form a pattern, its how you set them out that makes the pattern.
I should give this bit of advice here, and it is important for consideration. If you have small children it is unadvisable to have something that they can climb. so on the previous page the image with the scrolls that go top to bottom would be climbable by a small child.