Plain and simple wrought iron wall railing, with a wide variety of choice available for the decorative railing heads on the top. The upright bars are offered in a choice of options. These can be from round or square bars and are available in 12mm, 16mm or 20mm. because these wrought iron wall railings are custom made. I don't restrict the options. Some people have a preference to round bar some have a preference to square bar. Same applies to the railing heads. One of the big advantage to custom made wrought iron wall railings being choice and the ability to deviate from a set design. To create an individual design.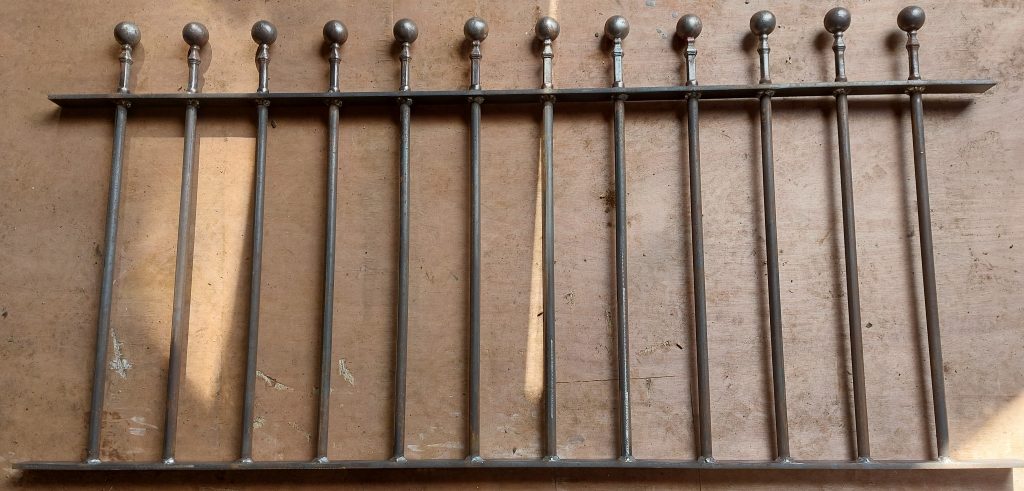 wrought iron wall Railing panel in photo is from 16mm round, all ground clean and ready to paint, Cad drawing is from 12mm uprights
Shorter wrought iron wall railings contain less bars, as this has no "design" to it. This leaves it unaffected by having different sizes panels, with different bar counts due to size.. This makes it an idea choice where you have multiple wrought iron wall railings of different lengths.. As you are not trying to get a pattern to work with all the different size panels.
These wrought iron wall railings are true made to measure. Meaning that the gap from the wall to the first upright bar will be the same as the rest of the gaps. So when we say a gap of 100mm between bars. This maybe slightly less depending on how the size divides down to fit the bars in.
Material specifications for these wrought iron wall railings: Frame from 40mm x 8mm flat, uprights from 12mm bar. Option for 16mm uprights or 20mm.
Pricing
Prices for 12mm round variant, Price as a guide, all are made to the individual size. So a 4ft 6 inch version would be mid way between the 4ft and 5ft price
| | | | | | | | |
| --- | --- | --- | --- | --- | --- | --- | --- |
| Height | 3ft/ 915mm wide | 4ft/1220mm wide | 5ft/1525mm wide | 6ft/1830mm wide | 7ft/2135mm wide | 8ft/2440mm wide | 9ft/ 2750mm wode |
| 700mm | £100 | £130 | £160 | £190 | £210 | £240 | £270 |
| 900mm | £110 | £143 | £176 | £209 | £242 | £275 | £305 |
| 1200mm | £140 | £180 | £220 | £260 | £300 | £340 | £380 |
These are a guide prices, because of the number of option and possibilities it isn't possible to list all on the website with out confusion.
Railing heads
The top decorative railing heads are offered in a wide range of choices, to suit round or square upright bars. we can help guide you through the choices.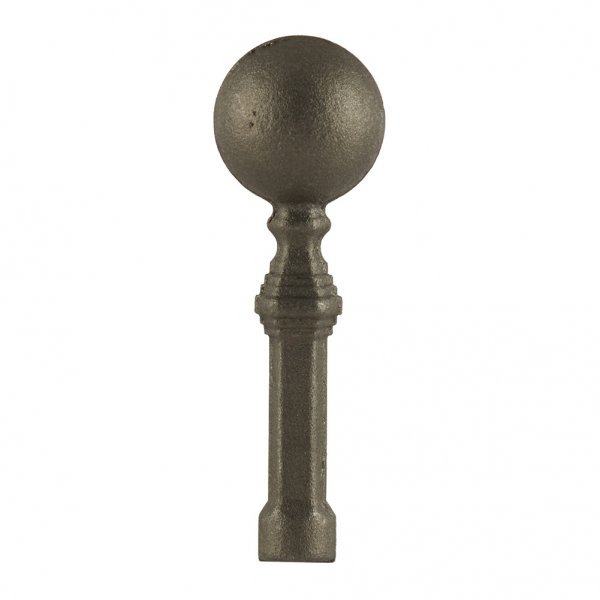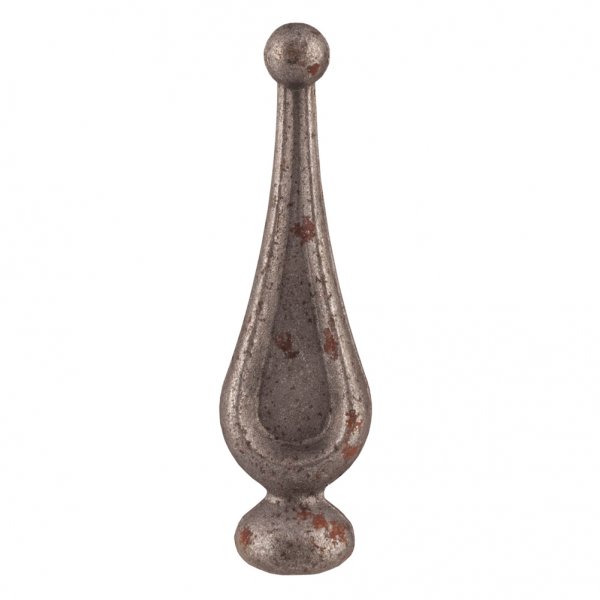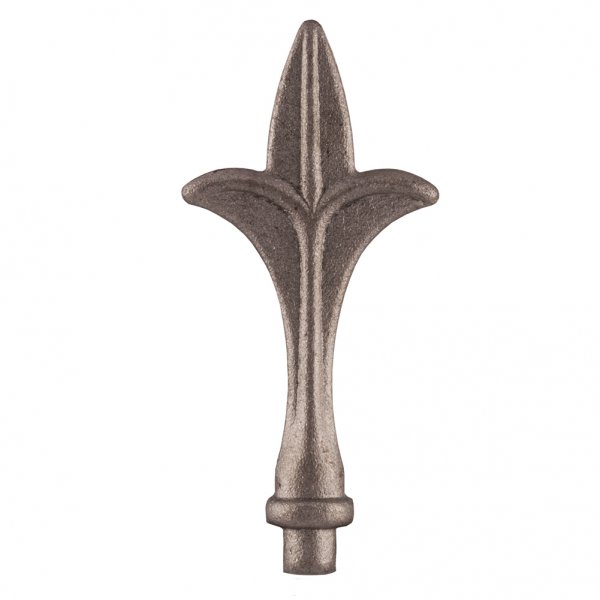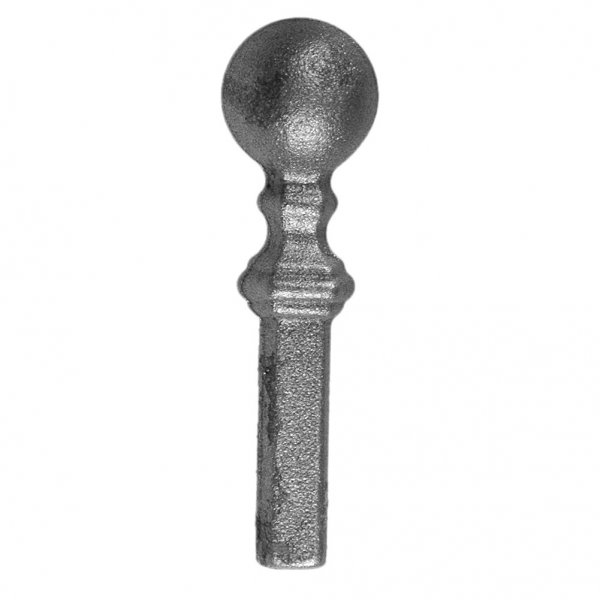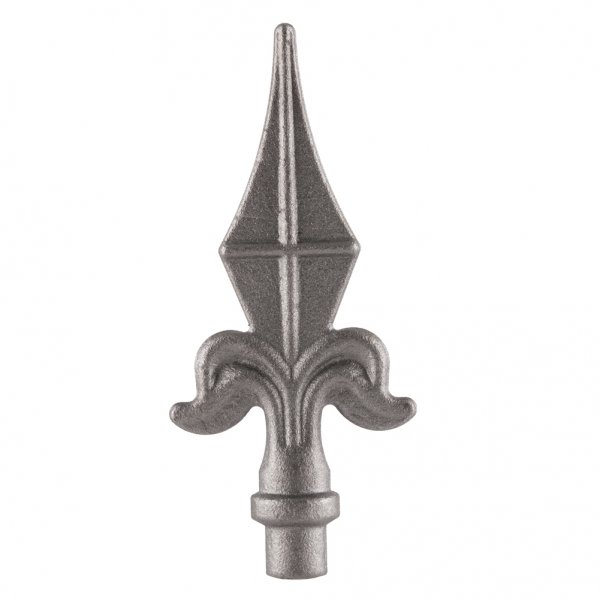 A small selection of possible choices for top decoration, more option can be found here
As this is a basic wrought iron wall railing with no design, you can add your own "Extras" into the design to form you own unique design. Check out the page on bars
Painting
All Wrought iron wall railings are supplied painted unless otherwise requested. This involves an acid etc primer, this promotes good adhesion to the steel as well as providing rust proof protection. Each railing is then painted in a high build primer, this helps smooth out any defects in the steel, and can be sanded if required to provide a better surface finish for the final top coat. The top coat is applied. in each stage of painting the railing is hung upside down painted allowed to dry and then turned over the correct way and repainted. This ensures a good even coat over all parts of the wrought iron wall railing. Sadly this is a slow process with time being allowed for drying between each coat. But the end result is worth the time spent.
Email us you needs and i can email back an exact price. When there are more than one panel of the same size, the other panels are discounted by 5%. This is because once the spacings are worked out for one panel, it becomes easier to transfer those markings to a new panel. It saves me time, so it saves you money.