Wrought iron gates all made to measure. This allows for greater flexibility on design as all are hand made. Meaning I can offer lots of options in terms design and material specification., and you get a gate that fits correctly
Garden Gates
Metal garden gates, usually around 3 or 4 feet high act as a garden barrier, to keep pets or children within the garden area or just provide an attractive entrance. Made to almost any width required. Garden gates hung from steel or wooden post or from brick piers.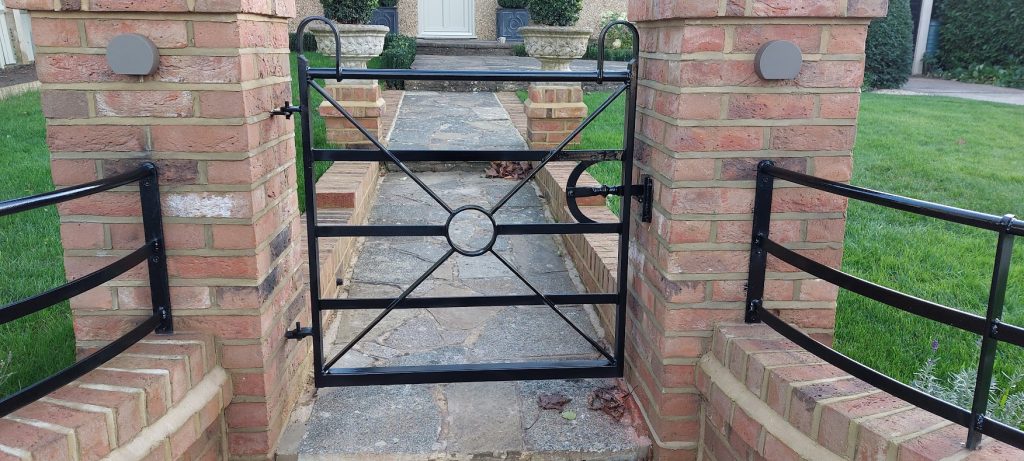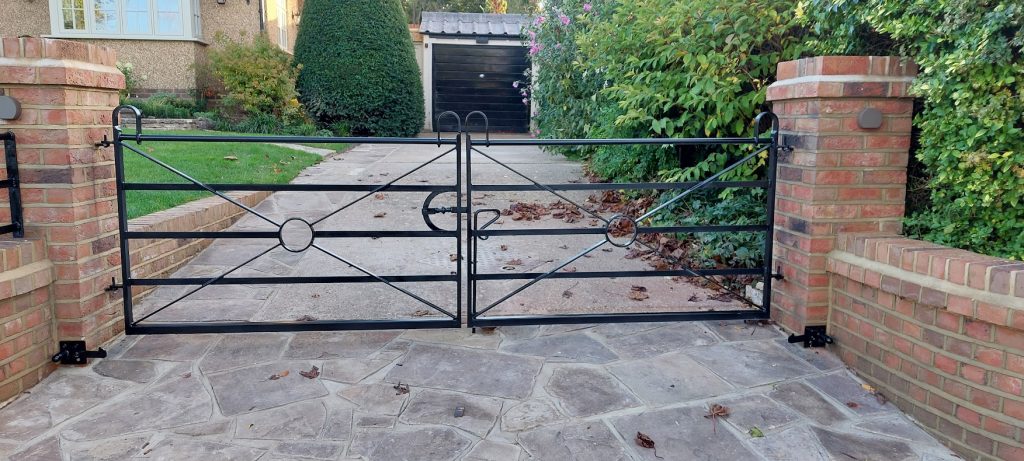 Driveway entrance gates
Commonly referred to as wrought iron driveway entrance gates, these are of a similar height to garden gates. Easily mounted to brick piers or steel posts. Wrought iron Driveway gates are Ideal for providing security or just for an attractive driveway entrance.. Made to the measure. Modern wrought iron driveway gates designs or more traditional
Side gates
Side gates or alley way gate are taller, using in the 5 or 6 ft tall range and can provide good security if fitted with a lock, either a padlock or a lock built into the gate. Because of there height it makes them more difficult to climb over. Despite see through in some respects it can offer better security than a wooden gate simply because any one up to no good can be seen, through the gate.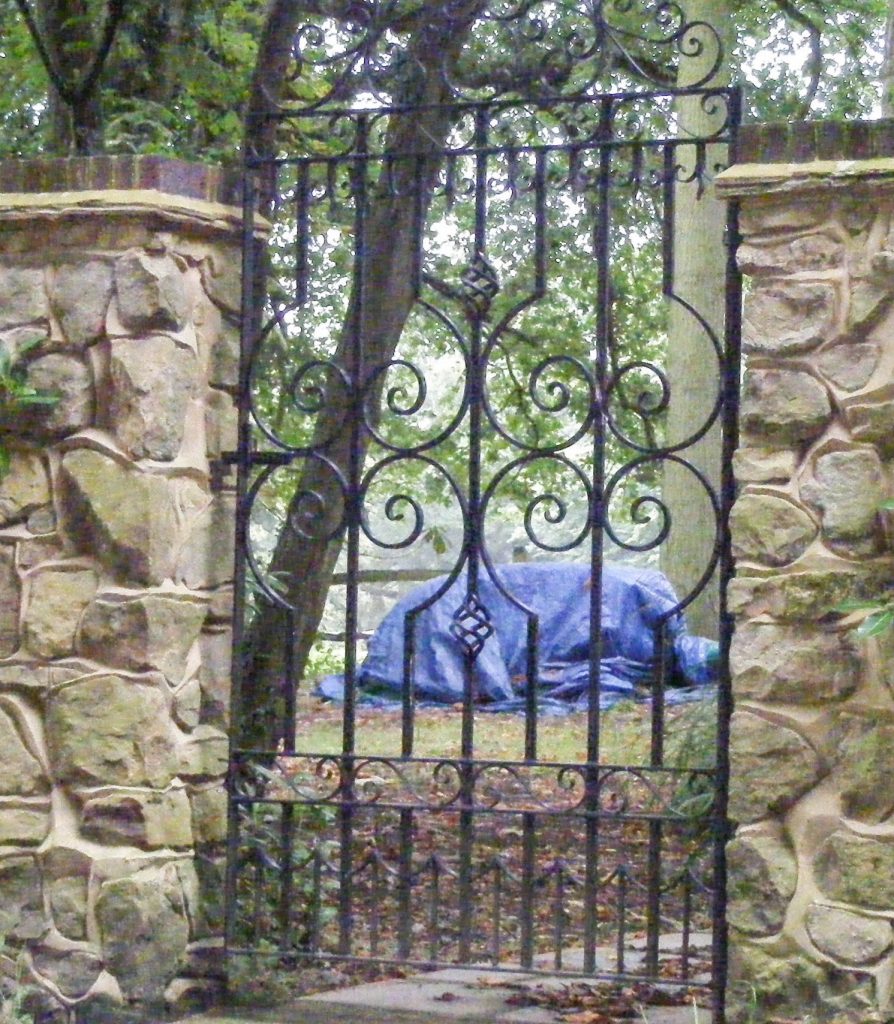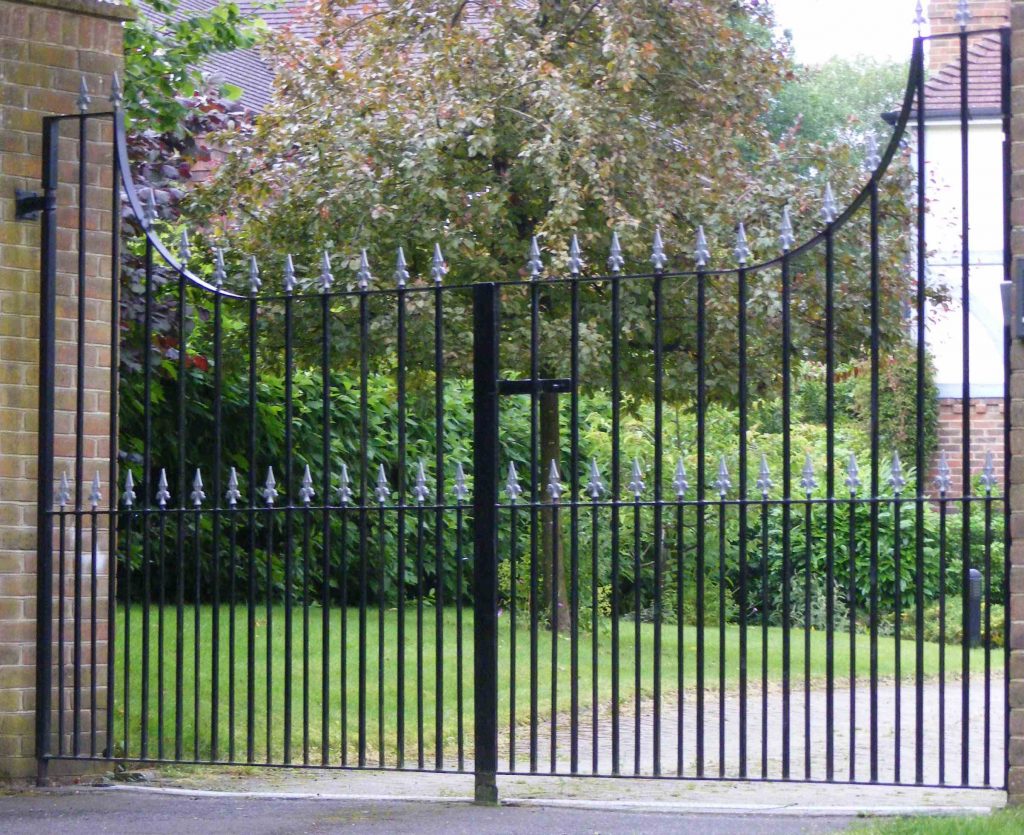 Estate gates
Estate gates as they are often call, are similar in height to side gates. Sharing much of their characteristics, again providing good security. These can be made to suit automation or are equally at home being hand operated.
Size of the post will depend on the opening and weight of the gate. Narrow entrances will quite often accept a 100mm square steel post but larger entrances require larger posts due to gate weight and a post of 200mm square is not unusual. Despite the cost of a steel post it is still vastly cheap than having brick piers built
We can design a gate to suit your needs, Modern wrought iron driveway gates, traditional garden gates whatever your requirement although quite often our customers have trawled the internet or just seen something they like, and we get sent a photo via email with a gate size and then ask to give a price.
Gallery images from work completed over the years can be found here