This is a simple metal garden wall railing but highly customizable, with a choice of railing heads and a choice of material thickness used in its construction.. As these are made to measure. it allows me to offer more options than most manufacturers.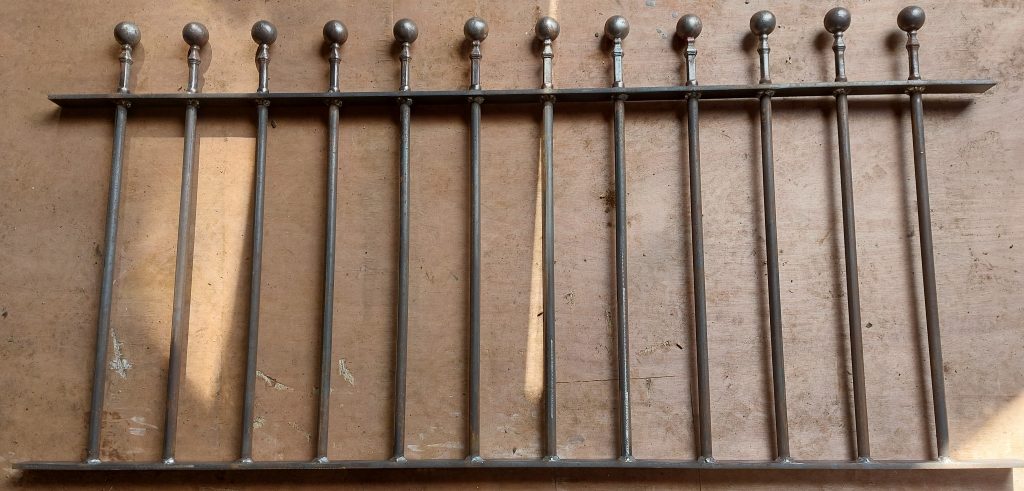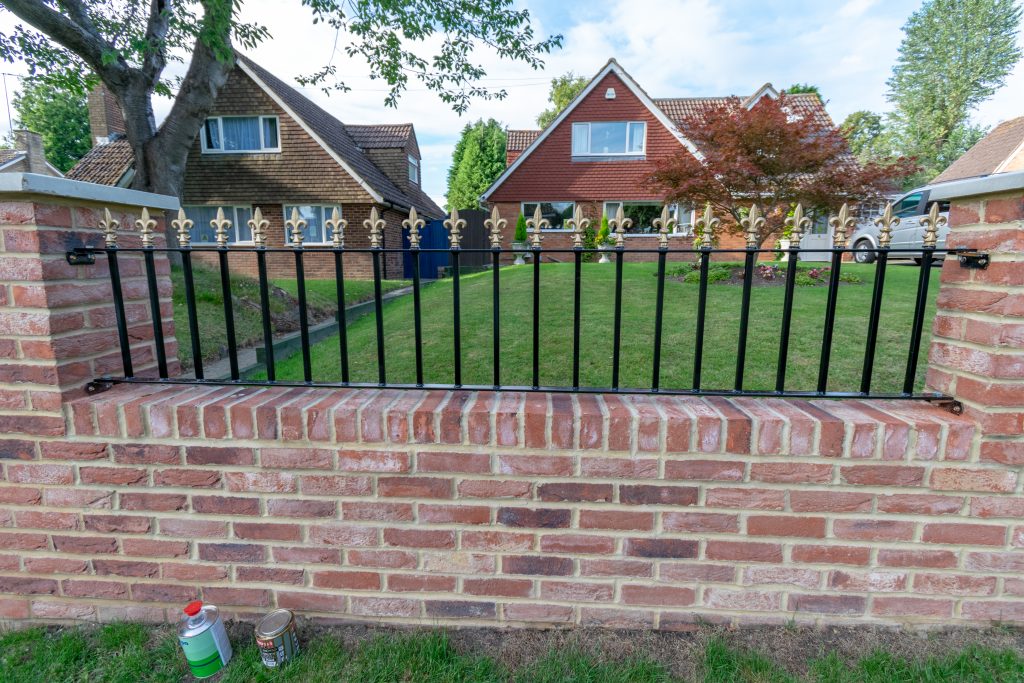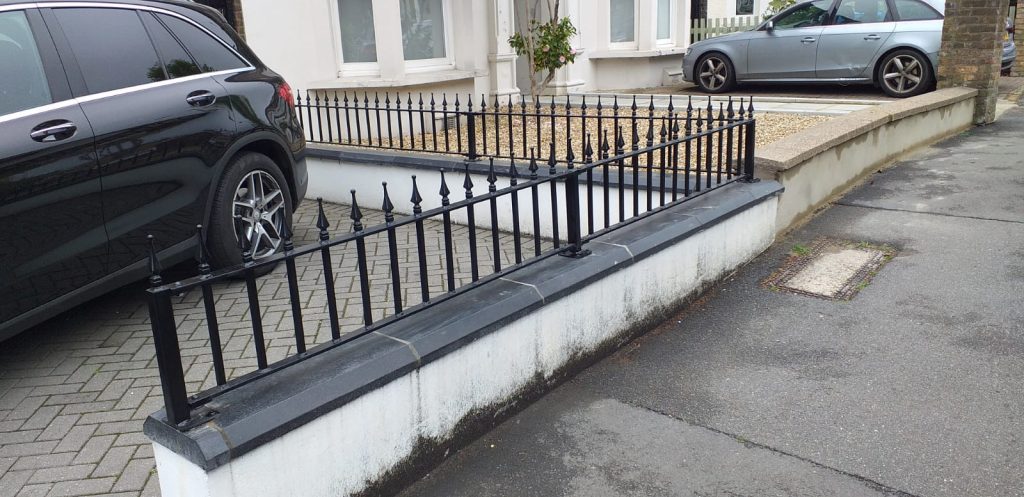 All versions of the same metal garden wall railing, but with different railing heads and upright bars
Bar spacings on these metal garden wall railings are usually around 100mm apart (This can be adjusted to suit your needs if required). Each railing is made so that each gap is the same as the next gap. The gap from the brick pier to the first upright bar will be the same as the rest of the gaps. This ensures a high quality look to the railings.
The top decorative railing heads are offered in a wide range of choices, to suit round or square upright bars. we can help guide you through the choices.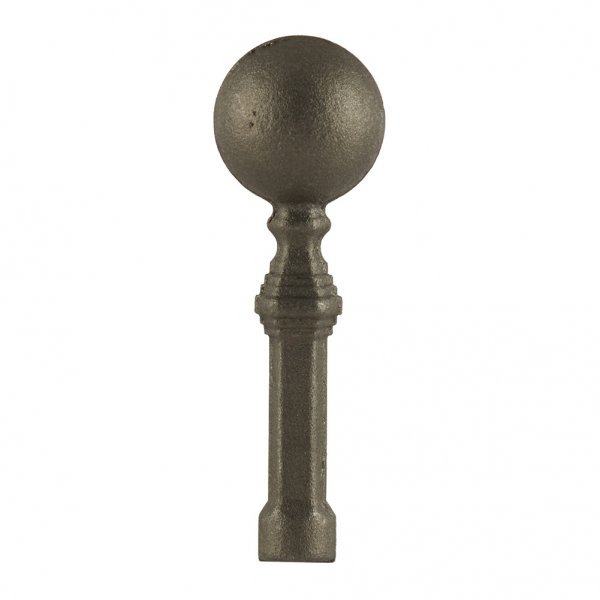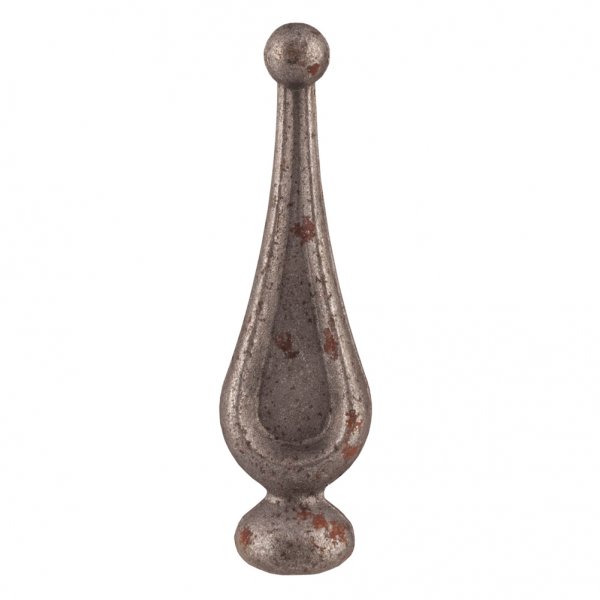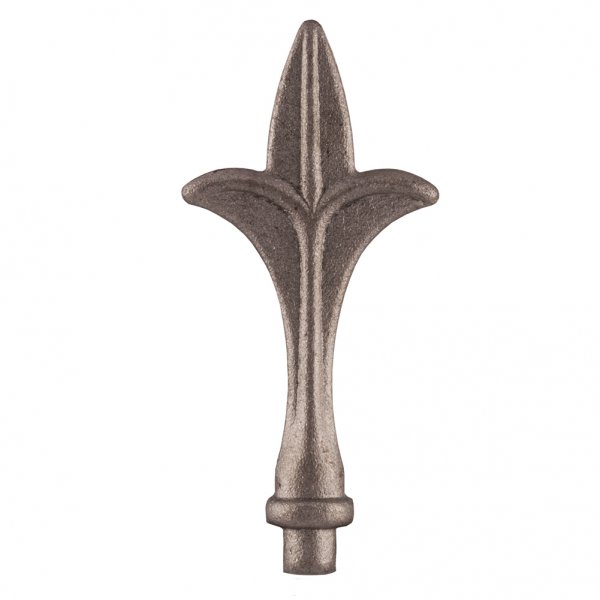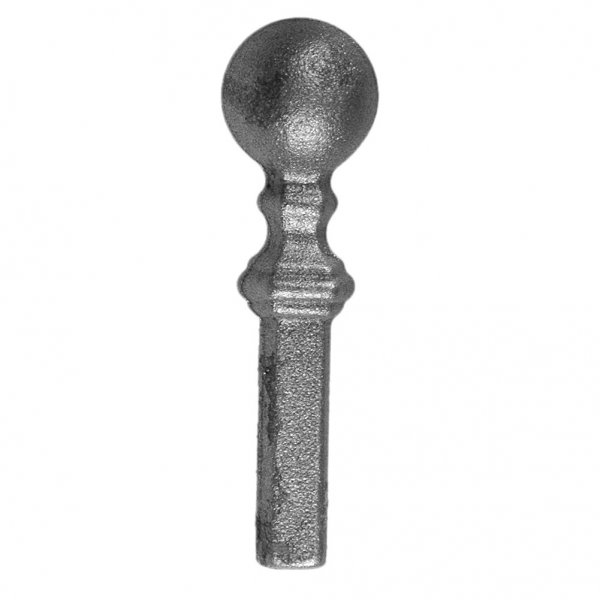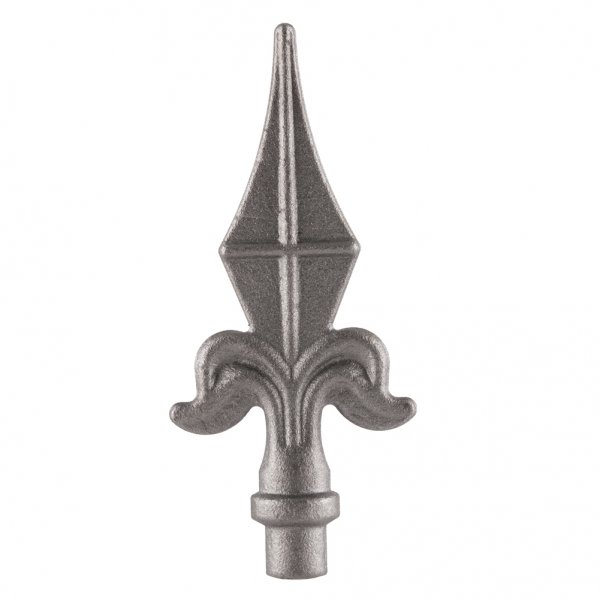 A small selection of possible choices for top decoration, more option can be found here
The upright bars are also offered in a range of choices, 12mm round being the cheapest, 16mm round, and 20mm round. As well as 12mm square, 16mm square and 20mm square. The frame or horizontal bars are offered in 30mm x 8mm flat steel or 40mm x 8mm flat steel.
As mention these are made to measure, so as a guide we provide a price guidance for different sizes, although the size you require may not be listed it will be likely somewhere between to sizes. email me with your specific sizes and i can then mail back a price.
| | | | | | | |
| --- | --- | --- | --- | --- | --- | --- |
| Size | 3ft | 4ft | 5ft | 6ft | 7ft | 8ft |
| 450mm high | £100 | £120 | £140 | £160 | £180 | £200 |
| 600mm high | £110 | £135 | £160 | £185 | £205 | £230 |
Price guidance for 30mm x 8mm flat using 12mm round as uprights
For heavier 16mm upright bars we recommend using 40mm x 8mm flat rather than 30mm flat, although 30mm can be used
| | | | | | | |
| --- | --- | --- | --- | --- | --- | --- |
| Size | 3ft | 4ft | 5ft | 6ft | 7ft | 8ft |
| 450mm high | £115 | £138 | £161 | £183 | £206 | £230 |
| 600mm high | £130 | £162 | £194 | £216 | £250 | £290 |
Price guidance for 16mm square and 40mm x 8mm flat bar
Please note because these are made to size, it takes time to work out bar spacings between each upright. If there are two panels the same size, the second panel will be discounted by 5%. In short i can mark out the spacings from the first bar and transfer to the second. It saves me time and that means it saves you money.
All metal garden wall railings are supplied with wall fittings, these allow a small adjustment to size of around 10mm, ideal for where the wall isnt quite level. Alternatively these railings can be fitted to steel posts where there are no brick piers, or on a long run where the brick piers are to far spaced apart to make in one wall railing panel.
All metal garden wall railings are supplied painted unless otherwise requested. Can be supplied in a wide variety of RAL colours, from Matt to eggshell to semi gloss to a full gloss.. The painting process is a slow one with each railing being acid etched, this excellent at rust protection but also provides an excellent key for the primer to stick to. Next the railing is primed with a high build primer, this helps smooth out some of the imperfections in the steel, then finally coated with the colour choice in a high quality top coat. Each painting process, etc, primer, top coat the railing is hung upside down and painted allowed to dry then flipped over the right way and repainted. This ensures a good coating over all parts of the railing. With allowing for drying time on each coat this takes around a week. But in my opinion paint is better than plastic powder coat, simply because it is far easier to repair should it become damaged.
Please Email us for more detail, happy to help with any additional information you require.